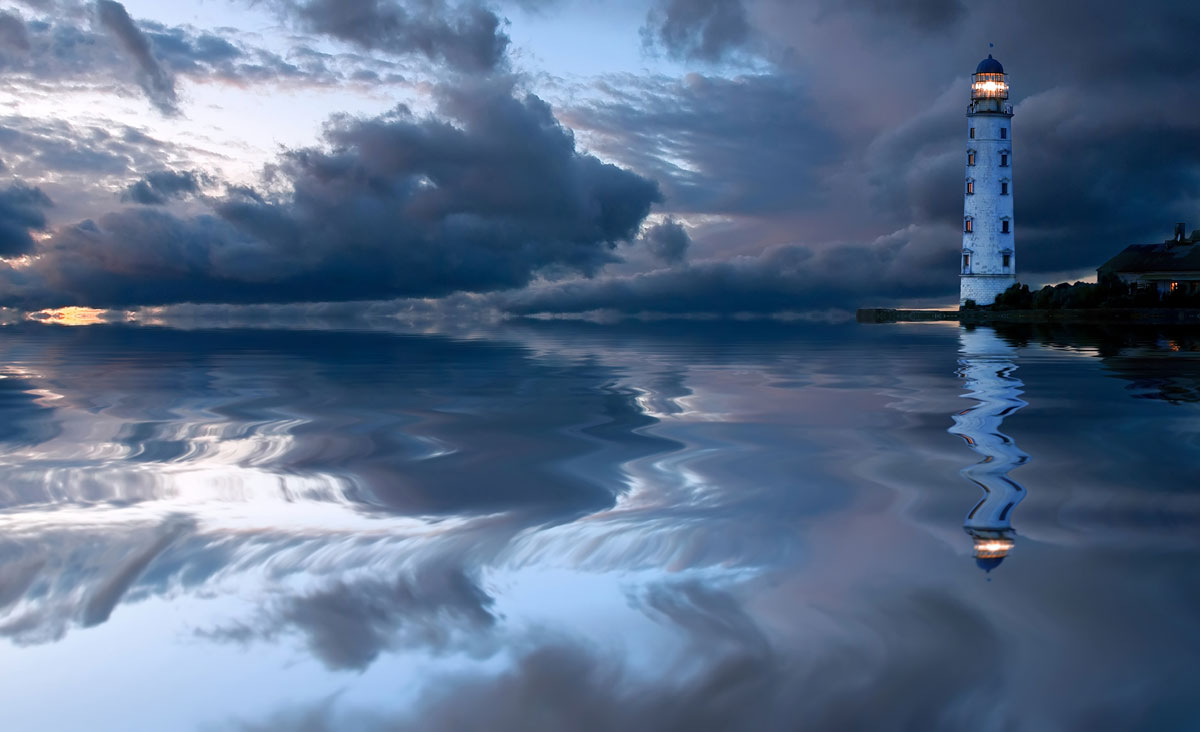 We Speak Spanish
Lights
SLS 2500
LED Surgical Light
Provides a shadowless, natural color temperature
The SLS 2500 LED Mobile Lighting System is a compact system. The shadowless lamps provide a color temperature of 3,500 k ~ 5,000 k, reflecting the actual colors of human tissue.
FEATURES
Dimming knob located on the side of the lighthead for quick and easy adjustments.
Multipath light ensures that a single damaged LED in one path will not affect operation.
The SLS 2500 is now available as a ceiling mount! Ask your representative for details.

Universal appending system provides maximal adjusting range, suitable
for any operating room. Appending arm is made of nova alloy, with light-strong structure, convenient operation and accurate positioning.
Lamp cap is totally enclosed with a streamlined design, complying with requirements of sterilizing and laminar flow cleaning in all kinds of operating rooms.
SPECIFICATIONS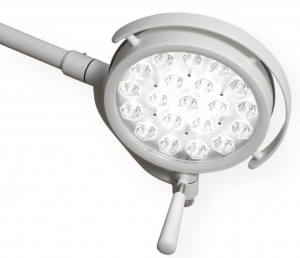 Illumination Intensity (lux):
60,000
Color Temperature (k):
3,500 ~ 5,000
CRI – Color Rendering Index:
85 – 95
Diameter of Light Spot:
7 in
Illumination Depth:
23.5 in Power (w): 20
Light Options:
Wall-Mounted
Floor-Standing
Ceiling Mount
---
SLS 9000
Portable Floor Light
Energy saving and eco-friendly, with an ultra-long service life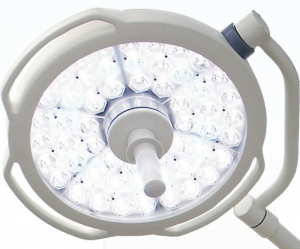 The SLS 9000 Portable LED Light is a cost efficient portable light boasting a rated LED life of up to 30,000 to 50,000 hours.
The CAD designed multi-LED- lighting-beam produces lighting depth more than 55in., with up to 90,000 lux of central illumination. New alloy construction and a simple suspension system is easy to control and to be positioned accurately. This easily adjustable light system is suitable for pendant, wall-mounted and floor-standing lamps, meeting requirements of multiple operating rooms.
Features:

OSRAMledbulbs
Adjustablefocusing
Diameter(in):20
Illumination(Lx):=90,000
ColorTemp(K):3500-5000
ColorRenderingIndex(%):=93
Diameteroflightspot(in):5-14
LEDpower(W):55
IlluminationDepth(in):28-59
LEDservicelife(H):50,000
---
SLS 9000 Plus
LED Surgery Light
Provides bright, consistent illumination and excellent engineering
The SLS 9000 Plus is a shadowless surgery light designed for bright, long-lasting illumination. The light provides up to 140,000 Lux at maximum intentisty and is rated for 50,000 hours of LED life.
Using the on board LCD touchscreen, clinicians can easily adjust the illumination intensity, color temperature and Chromogenic index. The SLS 9000 Plus is available in multiple configurations to fit your operating room needs.
Maximum output rated at 140,000 Lux.
Cost-efficient surgical lighting system rated for 50,000 hours of LED life.
Choose a single or dual head ceiling mount.
Energy saving LED lighting provides consistent illumination at a cool light temperature.

Expertly engineered design makes it easy to position and adjust light heads for any surgical procedure.
LCD touch screen operation measures illumination intensity, color temperature and Chromogenic index.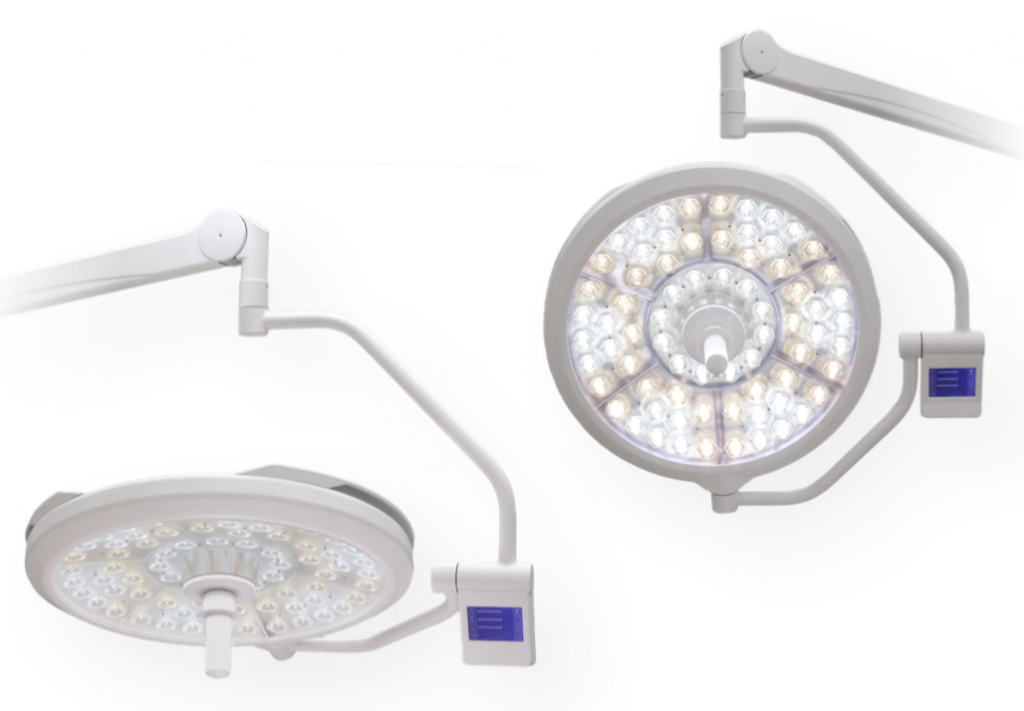 SPECIFICATIONS
Single Ceiling Mount Assembly: approx. 66.1 lb

Dual Ceiling Mount Assembly: approx. 90.4 lb

Light Head Assembly: approx. 22.7 lb

Ceiling Casting: 11.4" x 10.2"

Arm (articulated): 35.4" x 0.9" x 2.4"

Light Head Assembly: 24.4" x 46.9"

Correlated Color temperature: 3500° – 5000° Kelvin

Irradiance: 233 W/m2 (39.4")

Color Rendering Index: 91.6

Focal Length: (27.6")

Central Illuminance (adjustable): 140,000 Lux

Light Field Diameter (adjustable): 4.7" – 13.8"

Depth of Illumination: 55.1"
---
Maxx Luxx LED 160
Energy efficient surgery light that provides extremely high-lux with cool output
The Maxx Luxx LED 160 is an extremely high-lux adjustable O.R. light with German-manufactured spring arms for superior and reliable positioning.
Features:
≤160,000lux(14,800footcandles)
3,500~5,000kadjustablecolortemperature close to natural sunlight, to exactly image human tissue colors
Ultra-longlife,upto30,000to50,000hours
Adjustablefocusing
Adjustablecolortemperature
AdjustableCRI
Cost-efficientsurgerylightingsystem
CooloutputLEDlightsource
Complieswithsterilizingandlaminarflow cleaning requirements
Specifications:
120-350mmspotdiameter
160,000lux(14,800footcandles)
Colortemperatureof3500°-5000° Kelvin
IlluminationDepth(mm):700-1500
30,000to50,000-hourliferatedLEDlife
LEDpower(W):120
ColorRenderingIndex(%):≥93